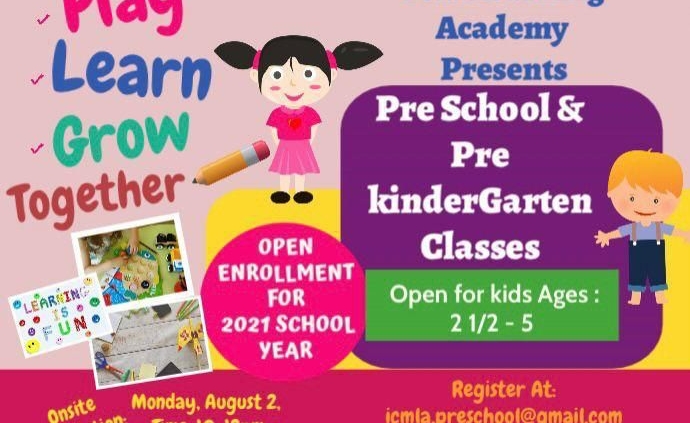 ICM Learning Academy is proud and Happy to announce opening of our Pre School program and Pre Kindergarten program at our new location : 108 William Street, Mason, OH, 45040
ENROLL NOW: Open for children ages 2&1/2 years to 5 years old.
Thank you for showing interest in ICM Learning Academy's Pre School & Pre Kindergarten program. Our Program offers comprehensive programming including a preschool and a Prekindergarten for children from ages two & half years through five years. The program offers half day and full day, 2 days, 3 days and 5 days a week options.
Our enrichment classes offer a variety of developmentally appropriate educational activities designed for young children.  Our Teachers utilize standards-based activities to help children develop vital skills in the areas of social-emotional, physical, language and cognitive development.
Please Note : Children should be potty trained
Below is our fees structure:
Full day session:
TIME : 9:30am – 3:30pm
• 5 days a week – $400/month
• 3 days a week – $275/ month
• 2 days a week – $175/month
Half day sessions :
MORNING TIME : 9:30am – 12:00pm
OR
AFTERNOON TIME :
1:00pm – 3:30pm
•5 days a week – $300/month
•3 days a week – $175/ month
•2 days a week – $125/ month
Register by Email at : icmla.preschool@gmail.com
For more details, please email at :- icmla.preschool@gmail.com
https://www.icmlearningacademy.com/wp-content/uploads/2021/08/WhatsApp-Image-2021-07-21-at-10.42.45-AM.jpeg
505
690
ICM
https://www.icmlearningacademy.com/wp-content/uploads/2020/10/main.png
ICM
2021-08-17 14:24:42
2021-08-17 14:28:08
Preschool & PreKindergarten